Alexander Hotel
Rheinstrasse 72
65185 Wiesbaden
Germany

Back to hotels in Wiesbaden list -----------------------------------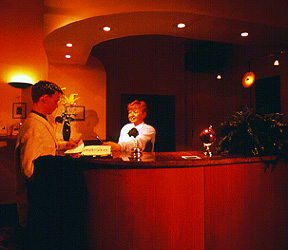 Located in the center of Wiesbadne, close to the Wiesbadens Convention Center, the Alexaner hotel is a comfortable hotel run by its owner offering its guests an unforgettable stay in welcoming, stylish interiors. Guests will enjoy friendly and hospitable service as well as elegant atmosphere and stylish architecture of the hotel. Entering the hotel guests will be welcomed in a bright colors and friendly reception and lobby. There is a quick access to the Convention Center, Opera and to the train station.

The Alexander hotel features comfortable 26 rooms with elegant English style design, iron beds, stylish antique fittings and relaxing mild color decorations. Rooms are equipped with a telephone, alarm clock, hairdryer, radio, satellite television and a temperature control device. The first floor was completely renovated. Guests will enjoy free wireless LAN Internet connection in the rooms and in public areas of the hotel. In the morning guests will enjoy delicious breakfast buffet served in a nice breakfast room.

There is also a restaurant and a bar inside the hotel. Small dogs are allowed.