Hotel Deutscher Hof
Frauentorgraben 29
90443 Nuremberg
Germany



Back to hotels in Nürnberg list -----------------------------------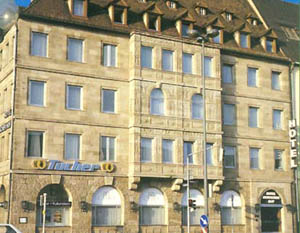 The Hotel Deutscher Hof is a 4-floor building offering 80 beds in 19 single and 30 double rooms, all of them comfortable and equipped with a private bath or shower, WC, direct dial telephone, radio, and cable TV. There's also 1 suite available, which enjoys a view over the castle and provides the highest level of comfort.
The hotel facilities include 2 restaurants, conference and banqueting facilities, laundry service, and safe deposit box. There's a car park 2 minutes away from the hotel (Parkhaus am Sterntor). Small pets are allowed.
The hotel accepts major credit cards.