Parkhotel Heidehof
Ingolstädter Str. 121,
85080 Gaimersheim/Ingolstadt
Germany

--------------------------------------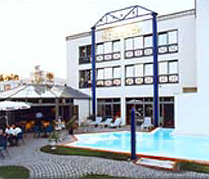 Welcome to Parkhotel Heidehof in Gaimersheim near Ingolstadt! Our four-star hotel is situated on the west side of Ingolstadt, close to the magnificent countryside, which is highlighted by the splendid Almühltal nearby. This privileged location combines the tranquility of a peaceful natural environment with easy access to all the important transport and cultural links of the city. Our hotel offers 115 rooms and suites in a comfortable four-star setting. These are equipped with marble baths with a shower or bath, WC, towel-rail-warmer, hairdryer, mini-bar, telephone, internet access and satellite TV/Video. A laundry service and 24 hour service is available for all our guests.
Spoil yourself in our various restaurants with international cuisine and select wines. The atmosphere is equally suited to both a family celebration and a pleasant evening with friends or business partners. For "night birds" our hotel bar "Mäx", decorated in American style, is the perfect choice. Mixed drinks and cocktails are served in an exclusive atmosphere until 3 o'clock in the morning.
A successful conference is also a further step towards success for us. Service from A to Z from our conference staff will make sure all your needs are attended. Our spacious, peacefully set conference foyers with terraces along with the surrounding modern, fully equipped conference rooms are perfect for both relaxation and communication.
The bathing and fitness center in Parkhotel Heiderhof is a veritable refuge where you can bring body and soul in harmony again. A healthy swim in clear blue water, a blissful time in the sauna and steam bath, a sun-bath in the solarium, cool cocktails on the pool terrace - where else can you enjoy such a feeling o well-being? A Beauty Farm is also on hand as a center for personal beauty. Elegantly and yet informally set out this is the place to indulge yourself.
The hotel accepts the following credit cards: EuroCard, Visa, MasterCard and Diners Club.