Eibsee Hotel
Peter K. H. Rieppel KG Am Eibsee1-3
82491 Grainau / Garmisch-Partenkirchen
Germany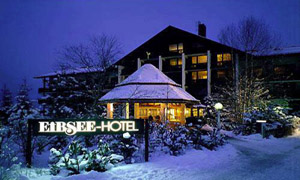 For over 100 years the guests of Eibsee Hotel have been enjoying the comfort of our International four-star hotel. With all its advantages of a family managed hotel the Eibsee Hotel is located at the elevation of 1000 m, right on the crystal clear lake "Eibsee", in the midst of a stunning alpine landscape that surrounds Germany's tallest mountain, the "Zugspitze". All of the 120 hotel rooms and suites meet our high quality standards. Every single room is equipped with a large double bed, a direct telephone line, satellite TV and a mini bar, even a modem and a fax line if requested. The Eibsee Hotel offers a variety of menus in its restaurant and invites guests to enjoy its pool-, spa- and fitness area as well as the tennis clay court. We also offer rental of sport and recreation equipment, such as mountain bikes, ski- and snowboard equipment, ice skates and sleds. All major credit cards are accepted at the hotel.

The EIBSEE- HOTEL is a non-smoking hotel.

The twin rooms have two large beds (140 cm x 200 cm) .Therefore it is not possible to set-up extra beds in the room. Please ask for Family rooms.

Check in time is 3:00 PM - Check out time is 11:00 AM

Please note that shorts and T-shirts are not allowed in public areas like bars, restaurants, terrace etc. On social events formal dress is required.

Dogs on request only and in limited numbers, minimum charge is 16,00 Euro per day depending on the size. Other pets are not allowed. Dogs are not allowed in our public areas like bars, restaurants, terrace, pools, beach, etc.