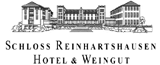 Schloss Reinhartshausen Kempinski Hotel
Erbach im Rheingau
65346 Erbach / Eltville
Germany

Back to hotels in Germany list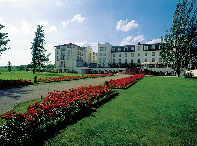 The Hotel Schloss Reinhartshausen is a peaceful residence situated in a nice area of the Rhein Main region. There is an easy access to the cities of Frankfurt, Wiesbaden and Mainz. A unique experience await you in this luxurious hotel designed to give you the feel of an exclusive and warm home away from home where you can fully enjoy yourself. It is also ideal for conferences, weddings, and other festivities.
The hotel complex offers 54 elegant guest rooms, apartments and suites, all with a magnificent view across the palace park, the River Rhine, and the hotel's own ecological vineyards. In-room facilities include air-conditioning, satellite TV, mini-bar, air-conditioning, telephone, and hairdryer.
The beautiful neighborhood offers many possibilities for recreational and cultural activities. Among the attractions there are guided mountain-bike tours, canoeing, guided sight-seeing tours (for adults and children), wine-tasting events, golf, and much more. Back at the hotel you can indulge yourself in the wellness area with a swimming pool, sauna, solarium, whirlpool, gymnasium, and rest areas.
There are 3 restaurants at the Schloss Reinhartshausen: the Restaurant Marcobrunn (one star rated in the Michelin Guide), the Wintergarten with a large summer terrace and great Mediterranean cuisine, and the Restaurant Schlosskeller Commedia del'Arte, offering regional and international specialties. The Wintergarden-Bar provides the ideal ambience for a stimulating evening to meet with business associates or just to relax at the end of a busy day.
The hotel offers 14 conference and banqueting rooms providing a motivating environment for events of up to 300 people. Other conveniences available include a fully equipped business centre, free parking, and 24 hour room service.
The hotel accepts all major credit cards.