Landhotel Altes Zollhaus
Altenberger Strasse 7
01776 Hermsdorf -
Erzgebirge / Dresden
Germany

Back to hotels in Dresden list -----------------------------------

Prices
Pictures
Location
Home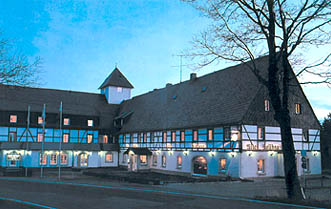 Welcome to the Landhotel Altes Zollhaus, a charming hotel with country-style appointed rooms and a very interesting dining offer for a relaxing stay. The hotel is located at a quiet spot in the Erzgebirges Mountains, in a beautiful setting in the middle of unspoiled and romantic natural surroundings and a a climate that's extremely beneficial to your health.
The hotel offers a total of 41 airy guestrooms equipped with amenities ensuring a high level of comfort and all the modern conveniences. All rooms feature a radio, TV-set, direct-dialling phone, hair dryer, and make-up mirror.
The several hundred years old Kreuzgewoelbe Restaurant is the perfect spot for enjoying a delicious meal. In its historic ambience you'll savour the tasty, time-honoured German and international dishes as well as a wide selection of wines, beers, and other beverages. Additionally, the Schaenke Bar offers you snacks, regional beers and an equally large menu of drinks and beverages.
The Landhotel is also an excellent venue for conferences, training courses, and special events. Four conference rooms are available with the latest hi-tech equipment and daylight, able to accommodate up to 120 people. Additional services offered include shuttle and limo transport to the airport, the train station, and city.
Car-park is free for hotel's guests.
The hotel accepts all major credit cards.