Aron Hotel
Arheiliger Weg 9
64380 Rossdorf / Darmstadt
Germany

Back to hotels in Darmstadt list -----------------------------------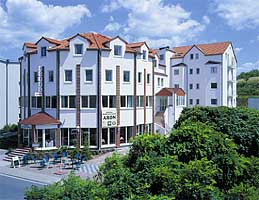 The Aron Hotel is located in Rossdorf, approximately seven-minute driving distance from Darmstadt and 30 minutes from the Frankfurt International Airport. It has 67 contemporarily-decorated guestrooms, featuring modern furniture and a high level of comfort which gives you a feeling of being at home. Light and offering plenty of space, their standard equipment includes shower, WC, Cable/Pay television, direct-dialling phone, Internet access, and hair dryer. Rooms for non-smokers are also available.
A wide selection of dishes and cocktails is offered in the hotel's restaurant, which enjoys a pleasant atmosphere and provides superb service. One more attractive possibility to spend your leisure time at the hotel is a visit to its Caribbean-Mexican bar, where you enjoy some good time tasting exotic drinks.
Guests who want keep in top shape while staying at the hotel may use a gym, sauna, tennis and squash courts. Bike rentals are also available. The Aron Hotel features conference rooms able to accommodate as many as 150 persons, well-equipped with the latest hi-tech gear both for business conferences and family events. Coffee breaks and meeting snacks are provided by the hotel's restaurant.
Parking is offered at no cost in the underground garage. Bus parking is also available.