Sternhotel Top
Markt 8
53111 Bonn
Germany

Back to hotels in Bonn list -----------------------------------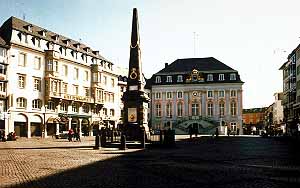 A traditional family-style hotel, the Sternhotel is centrally located in the heart of the business centre and in the historical marketplace. It also is located in the pedestrian precinct and therefore quiet, and within walking distance of the main station and the air terminal (500 meters). The Sternhotel offers 75 rooms, all with private bath or shower and toilet, direct-dial telephone and colour TV. A traditional first-class hotel, the Sternhotel is a member of Top International Hotels. All rooms come with direct-dial telephone and colour TV. The hotel has a cafeteria, a bar/nightclub and a variety of sporting facilities that are available close to hotel. Its conference rooms can accommodate up to 16 people. The hotel also boasts a coffee lounge.
The hotel accepts the following credit cards: Master Card, Dinners Club and Visa.
American Express are not accepted.