Dorint Parkhotel

Heinrich-von-Bibra-Str.13
97769 Bad Brueckenau
Germany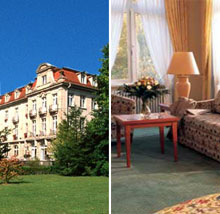 Welcome to the Dorint Parkhotel in Bad Brueckenau! Here you will find peace, comfort, and attractive facilities for your leisure and recreation, including the newly inaugurated Vital Spa, with its five activity and adventure landscapes and healing mineral springs.
Its rooms are designed to give you a deep feeling of relaxation. All of the 160 rooms, suites and apartments are equipped with a direct dial telephone, hairdryer, mini-bar, satellite TV, and work desk with lamp. Some of them also feature modem ports and tea/coffee facilities. The restaurant "Koenig Ludwig", with a traditional, elegant atmosphere, serves a delightful menu of international and regional specialties. At your disposal there will also be the "Café Sissi" (a spa park café with a garden terrace), the "Bierquielle" with a more informal but cosy atmosphere, and the Atrium Bar, an elegant bar with drinks, cocktails, and snacks.
The hotel has many wellness and leisure facilities. These include the recently inaugurated Vital Spa, indoor and outdoor swimming pools, sauna, steam baths, fitness centre, and sun bathing area. Massages and a wide range of beauty care treatments are also available to our guests.
There are 17 meeting rooms at the hotel, with an area of 325 m2 in the largest of them. Audio/video equipment and many other useful devices are provided according to the occasion. Additional facilities available at the hotel include a free of charge car park, underground garage, airport transfer service, concierge, laundry services, shoeshine machine, currency exchange services, and safe deposit box at the front desk.
The hotel accepts major credit cards.